ABOUT Dr Vijay Bang
Dr Vijay Bang is national & international award winning senior cardiologist with 30 yrs experience in angiography, angioplasty & pacemakers. He has performed more than 10000 angioplasties and many in complex scenario. He has won many awards due to his work in angioplasty.He is truly regarded as the best cardiologist in Mumbai.
Saviour Of Life
Local Cardiologist of Kenya Certified Dr.Vijay Bang as "Saviour Of Life" for Performing life saving Angioplasties in Kenya in their letter to Prime Minister of India and Kenya.
WHY DR VIJAY BANG is the top Cardiologist
Dr. Bang has been associated with Lilavati Hospital for 20 Years. He has an overall experience of 32 years.
30+ Years of Experience.

Performed more than 10000 + life saving Angioplasties.

Fellow of American College of Cardiology.

Awarded for Excellence in Cardiology in India.

Appointed as the Good Will Ambassador Cardiologist for Kenya.

Nominated as the best cardiologist in Mumbai.
Achievements
Received "Gunvant Medal" and Award Certificate for Ideal & Excellent Services in Cardiology from Award Committee of Grant Medical College and Sir J. J. Group of Hospital in 2007.
Received A V Gandhi Award for Excellence in Cardiology in 2006 given by Jury of cardiologists of the country.
The Government of Republic of Kenya, Foreign Minister has entitled Dr. Vijay Bang as "Goodwill Ambassador" between two countries India & Kenya for performing and training Cardiologist of Kenya for angioplasty in a letter written to Foreign Affairs Minister of India in 2006.
Appointed Professor and Head of the Department of Cardiology, Grant Medical College & Sir J. J. Group of Hospitals. Mumbai.
Appointed as Honorary Visiting Professor of Cardiology at Banaras Hindu University Medical College and Hospital. Varanasi (UP) in 2009
Invited as Faculty to speak on various topics of Interventional cardiology in India, USA, France and Kenya.
Elected President of Cardiological Society of India (Mumbai Chapter) year 1994 - 95.
Elected two times Executive Board Member of National Cardiological Society of India in 2008-2009 and 2012-2013.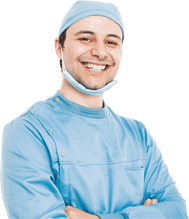 BOOK YOUR APPOINTMENT
It's easy and fast. Start now!