Dr.
Vijay Bang - The Heart Specialist.
INTERVENTIONAL CARDIOLOGIST / HEART CARE SERVICES
MD DM FCSI FESC FACC FSCAI (USA)
'Dr Vijay Bang is national & international award winning senior cardiologist with 30 yrs experience in angiography, angioplasty & pacemakers. He has performed more than 10000 angioplasties and many in complex scenario. He has won many awards due to his work in angioplasty.Dr Vijay Bang is considered as the best cardiologist in Mumbai.'
Course Director for INDIA ACT CONFERENCE at national level for complex angioplasties, valve therapies , pace maker implantation, acute heart attack , emergency angioplasty with renowned international faculty from USA and Europe. The event is organised under the auspices of Cardio-Vascular Academic and Research Foundation Mumbai of which Dr Vijay Bang is the President.
Dr Vijay Bang is a professor for PG training in Cardiology with PG degree courses like DM Cardiology and DNB Cardiology. For training students come from across India through merit based NEET exam conducted by Medical Council of India. Heart Specialist Dr Vijay Bang gives second opinion to crtical patients from across the world.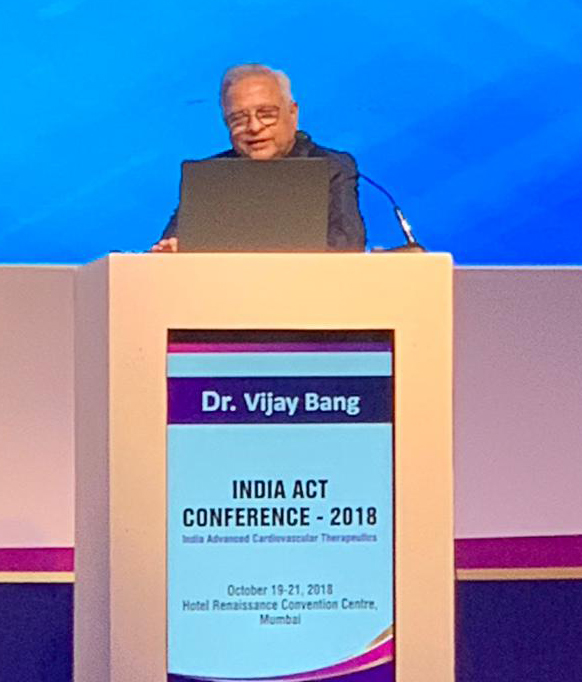 Monday - Friday (8.00 - 17.00)
Coronary and peripheral Angiography
Coronary Simple and Complex Angioplasty
Coronary analysis by IVUS/FFR
Permanent Pacemaker
Balloon Mitral Valve Valvuloplasty
Balloon Aortic Valve Valvuloplasty
Balloon Pulmonary Valve Valvuloplasty
Device Closure of ASD & PDA for Pediatric & Adult patients
Fellow of American College of Cardiology
Fellow of Cardiological Society of India
Fellow of European Society of Cardiology
Huge Knowledge of Psychotherapy
Fellow of Society for Cardiac Angiography and Intervention